Spring Training Camp for Ag Pilots
Mark Your Calendars!- Join us from May 14th to May 18th 2018, during our "Pilots, Planes & Prep 2018", a series of mini seminars at our facility here in Yorkton.
Come demo a Thrush, fly it with Terry Humphrey of Thrush Aircraft, the Dual Control, Dual Cockpit 510. Canadian Thrush Tour 2018.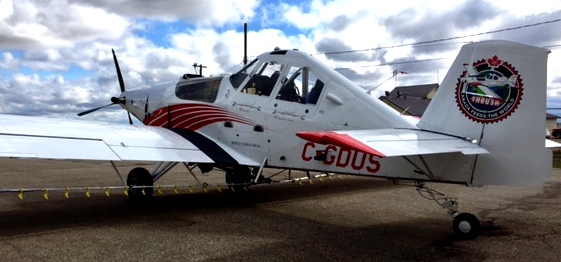 Specialized Spray will be offering pattern testing all week. To book your spot, call Garry Moffat at 1.403.330.9085.
A reminder that the Yorkton Airport is a controlled airport - details on the airport and proper protocol can be found here on Our Airport page.
Training Sessions include:
Monday-

10:00 Thrush Aircraft, Kevin Pierce
1:30 "Risk Management" with Doug Ingham, Ag Pilot (Approved for 2 Continuing Education Credits)
8:00 am PRMC & QA- Peter Boniface (session will be held at the Gallagher Centre in Yorkton-only open to those who registered)
5:30 pm Welcome Supper

Tuesday-

10:30 Thrush: Kevin Pierce, Conducting a Thorough Walk Around (YAS)
1:30 "Get to Know Your PT6" with Robin Lavoie of Pratt & Whitney (Holiday Inn)
8:00 am PRMC & QA- Peter Boniface (session will be held at the Gallagher Centre in Yorkton-only open to those who registered)
Wednesday- Satloc Update/Satloc in Forestry (10 Credit Session)

8:30 am Session with Zach Jenkins, Satloc (Holiday Inn)

Latest developments at Satloc
Using your Satloc (refresher)
Satloc Mapstar (office software)
Working with Shape Files

11:00 am: Anthonie York, Transland (Holiday Inn)
LUNCH sponsored by Satloc, Holiday Inn

1:00 Sask Emergency Services Presentation (Holiday Inn)

Ag Planes and Wildfire Program development update

1:45 pm Session with Zach. Cheryl & Experience Forestry Pilots (Holiday Inn)

Auto Boom Focus (Forestry, VRate)

Review required equipment
Review software settings
Job file basics (uploads/transfers)
HQ Tracking & Capabilities
Flying with auto boom jobs

4:00 pm Flight Demo with 4 Blade Prop on a 510P. (YAS)
6:00 pm Group Supper (Back 40)

Thursday-

9:00 am Satloc continued: Developing and working with PMaps for VRate (Zach Jenkins) Holiday Inn

Satloc Forestry Block Flying (actual maps, actual flying)

Lunch, BBQ at Holiday Inn
1:30 pm Forum Session to include:
Micronair Maintenance with Tim Sander
Other sessions TBA
Auto Boom Pilots - test equipment at a GIS location east of the airport

Friday- 9:00 am GE Engine Operations with Lubos Hrdina
Host Hotel: Holiday Inn Express, Yorkton. A block of rooms at a special rate have been set aside for attendees. Call and book your reservation today (1.306.782.9888/Toll Free: 1.877.660.8550), just make sure to mention that it is under the Yorkton Aircraft Service block!
We invite you to stay all week, or just for a day or two. Either way, we can't wait to see you! Stay tuned for more details.
---
DUECK AVIATION- CARs Maintenance Control & Maintenance Training
To look up dates and to register, click here.
---
Excellent Training Videos, Reference Material
Vasovagal syncope -The silent pilot killer
Will your helmet cords cause a problem if you had to quickly get out of the plane?
178 Seconds - flying in marginal weather
If it can happen to NASA, it can happen to you
Mentoring and what it meant to me - written by a rookie Ag Pilot
7 Habits of Highly Effective Pilots - great article, it's a take on the Steven Covey book
Thrush Training Center- see what Thrush Aircraft has to offer
if you have any material you would like to share with industry let us know, we would be happy to post it!
---
Flight Simulator Training
Yup! Ag specific. Terrific for emergency preparedness training. See our information here.
---
Pattern Testing Clinics
Our clinics were very well attended and much was learned. We will be hosting more clinics in the future. Please let us know your interest.
Welcoming (and helping) the new to the AG Air industry
And it was a success! Our Welcome to the Industry course held at CAAA 2018 went very well.
Thanks to Doug Ingham and Kevin Mooney for leading our participants through a workshop style course on mitigating risks. More details to come.