Welcome to our Thrush Dealership Page
Canadian dealer, Canadian support. Here we go... building a Thrush nation one plane at a time.
Big fields + Big planes = Big Productivity

Consider the Thrush 710P
She's the big sister to these fine birds, the 510G and the 510P.


We are delivering 2018 quotes. #plan2018 starts now.
---
Way better than XBox or PS4 Flight Simulator Gaming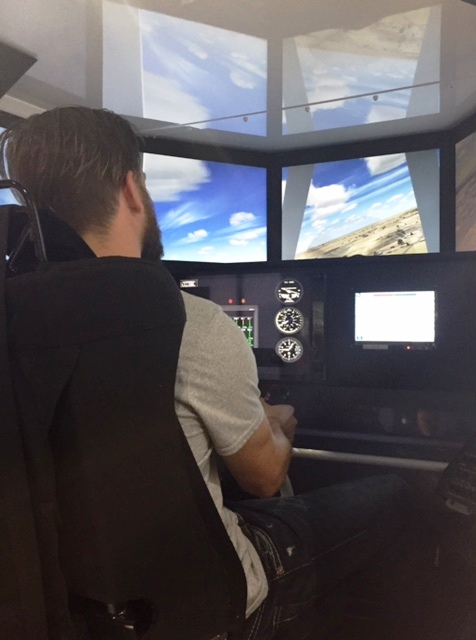 And if you are an ag pilot, way way better yet. Practice all those emergency procedures here and now.
If you would like to book a seat on this full actuating simulator please get in touch with us. We will make it happen.
Here are the details on this exciting, first of its kind for Ag, simulator.
Thrush is all about your safety, and they also have a host of training videos here. Short, to the point, but informative, take a view.
---
Thrush Rush Tour a Success - Performance & Stability
They looked, touched, felt, rode and evne FLEW the THRUSH! Thank you Thrush Aircraft for making this tour such a success especially Terry Humphrey, Chief Pilot for Thrush and our Tour.
Over 50 rides, piloted by 10 Turbine pilots all comments were extremely positive.
Most common comments were targeted around performance and stability of the aircraft.
Full fuel, full 510 gallons, two people in cockpit, high heat days (+75deg, +25cel) and this bird still got off the runway before 2000 feet.
Light on the controls, Terry demonstrated the maneuverarability of the plane and the hard to stall characteristics that make this plane stable and one of the safest to fly.
Notice was taken of the huge wing, small tail, and how she flys loaded like she's empty. This is a well built, hard working plane Canada. Thanks for your interest and support Canada during the recent tour.


This Canadian Tour also brought focus to the important role Canadian Aerial Applicators play in helping to feed the world. The decal featured here was on the tail of the tour plane. This awareness initiative of Thrush Aircraft is in support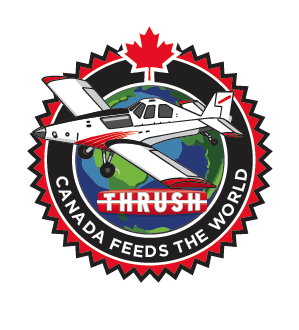 of the industry it serves. "Ag aviation will not continue to prosper as an industry, long-term, if we don't get more people aware of its benefits – and of its importance to increasing crop yields for farmers around the world," said Payne Hughes, president of Thrush Aircraft. "Population growth combined with economic challenges is putting tremendous pressure on farmers right now to produce more from the ground they have – and ag aviation can help. Coupled with this of course, is the clear fact that we need more pilots to join the industry and make it a career," he continued.
"We learned a long time ago that leaders promote their industry, while others just promote their products" said Eric Rojek, Vice President of Thrush. "The Feed the World campaign has been created to help everyone in our business – from customers to competitors – because it's a story that needs telling. And, if we do it right, we'll help secure the future for an industry that has served all of us well."
To read the full press release on the tour, click here.
---
Thrush Releases a Video Series
Because actions speak louder than words, and Thrush cares about your flying experience and your safety.
Check these training videos out!
---
Become a Center Fold!
Congrats to Randy Sandstrom and the Kammer Brothers for being featured in the Industry's Ag Air Update Paper. Thank you Thrush Aircraft for making this safe, dependable, hard working aircraft and keeping flyers safe.
Congrats as well to these valuable repeat customers:
Farr Air x 3
Provincial Airways x 3

---
How do you feel about #15! Yup, that's next up
Building a Thrush nation, one plane at a time ...
---
#13, Here she is - Center front - along with sisters #3 and #4 and the rest of the Thrush fleet

This newest Canadian Lady holds the record for the fastes flight home from the factory to Canada.
Thank you Provincial Airways for your continued support. Safe Flying!
---
#12, Arrived April 25! Congratulations to Randy & Janet Sandstrom of Manitoba's Prairie Dusters (their 2nd H80)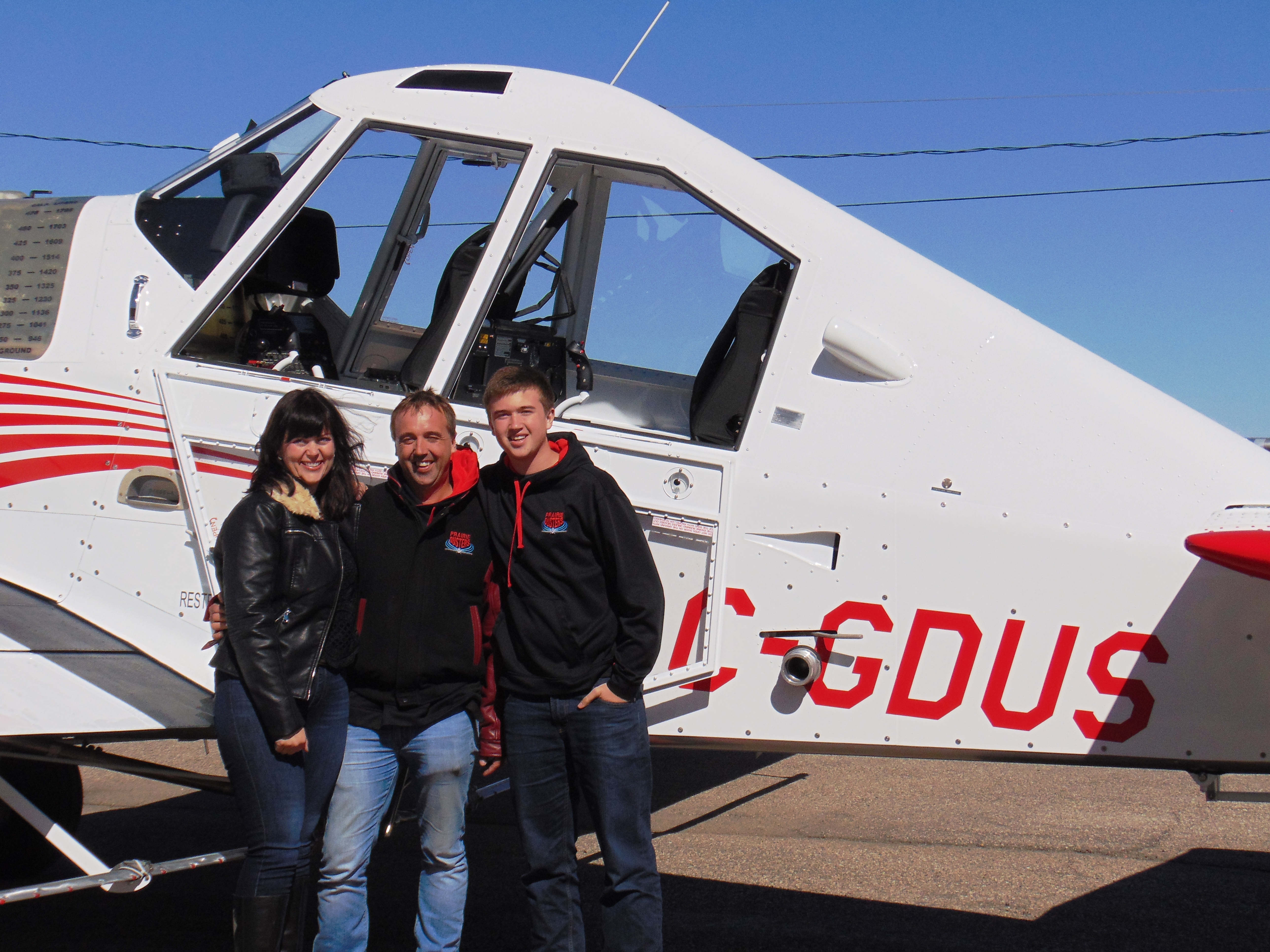 First Dual Control H80 in Canada! The occasion called for Champagne & Cigars all around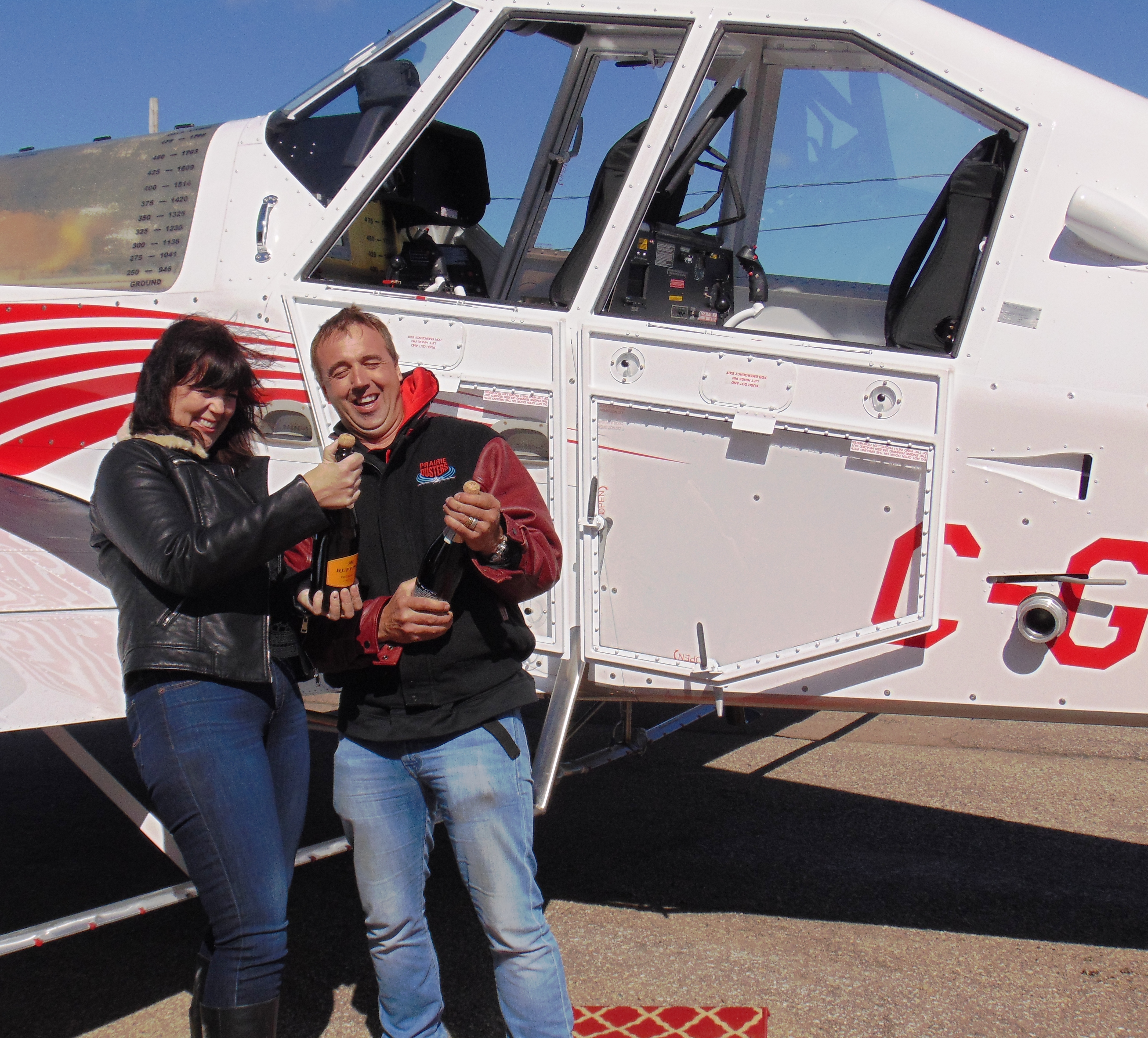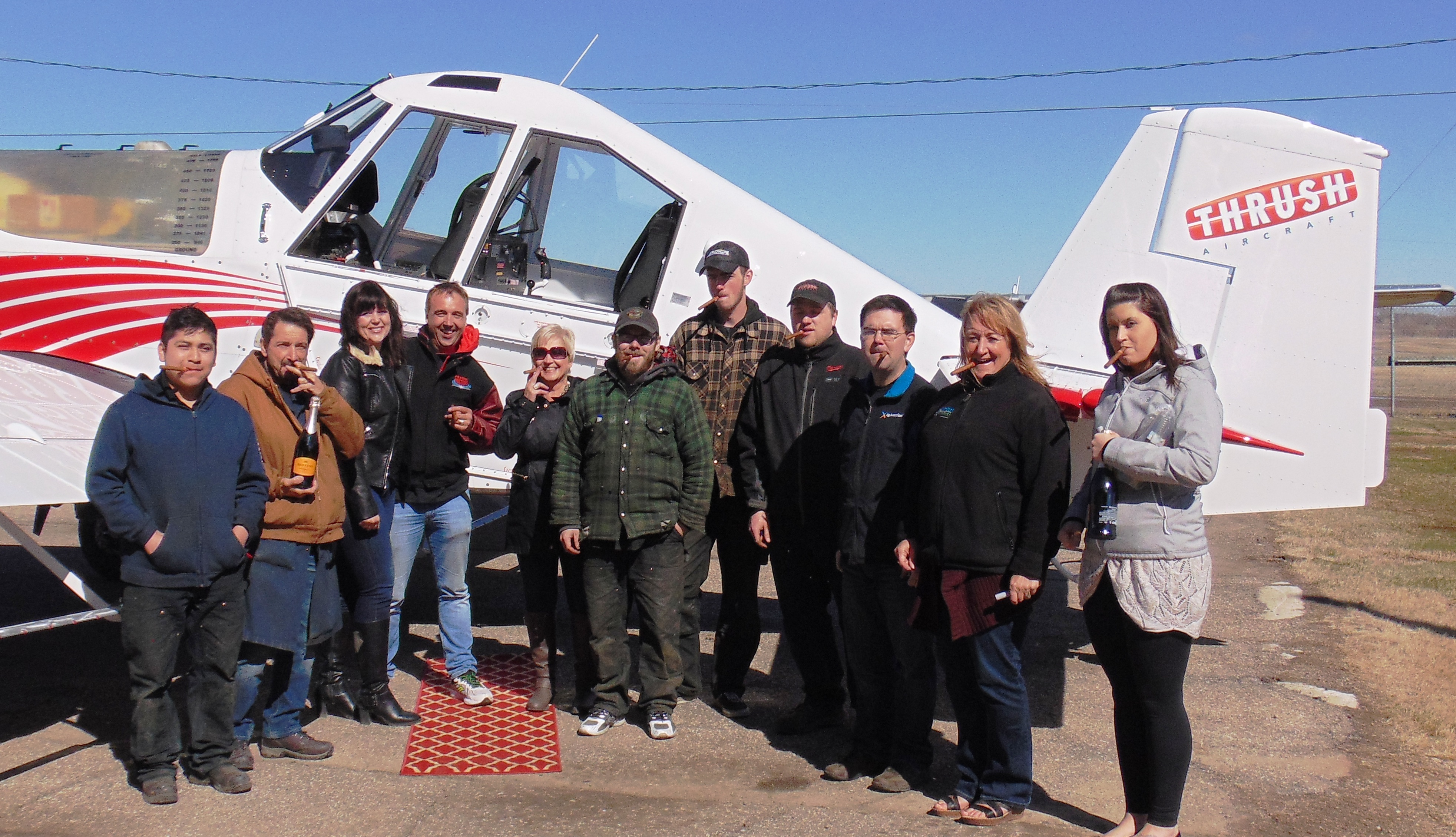 ---
#11 Arrived April 5, Congratulations to Doug and Chris Kammer on airplane #2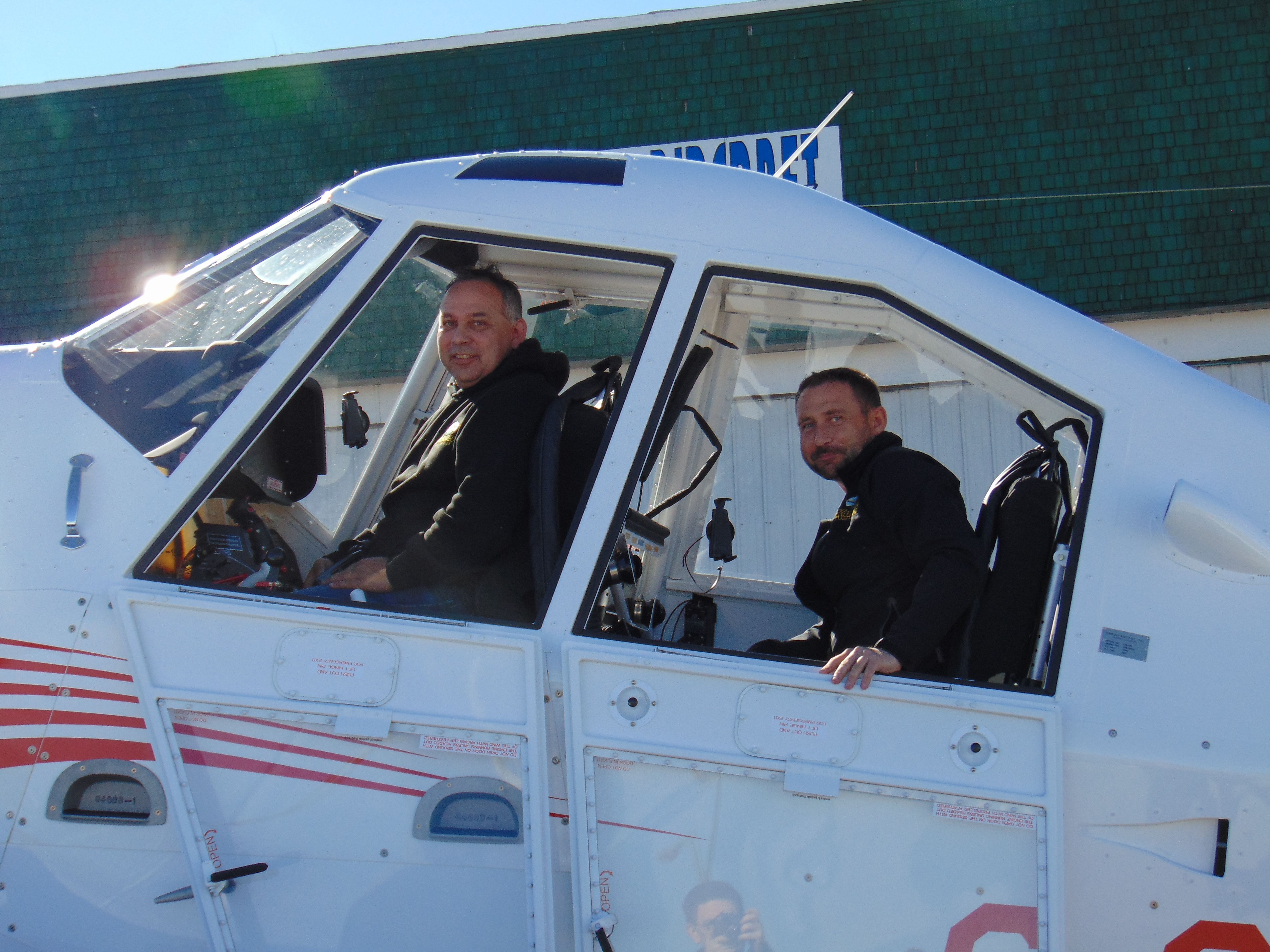 This time the wives came out to welcome the new plane!
Quite the crew - great people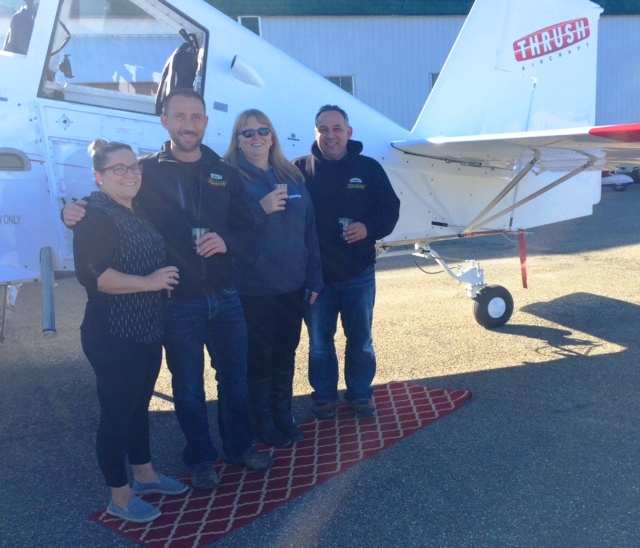 #10 Arrived December 20, 2016
Congratulations to Jeff and Jody Farr of Farr Air Inc.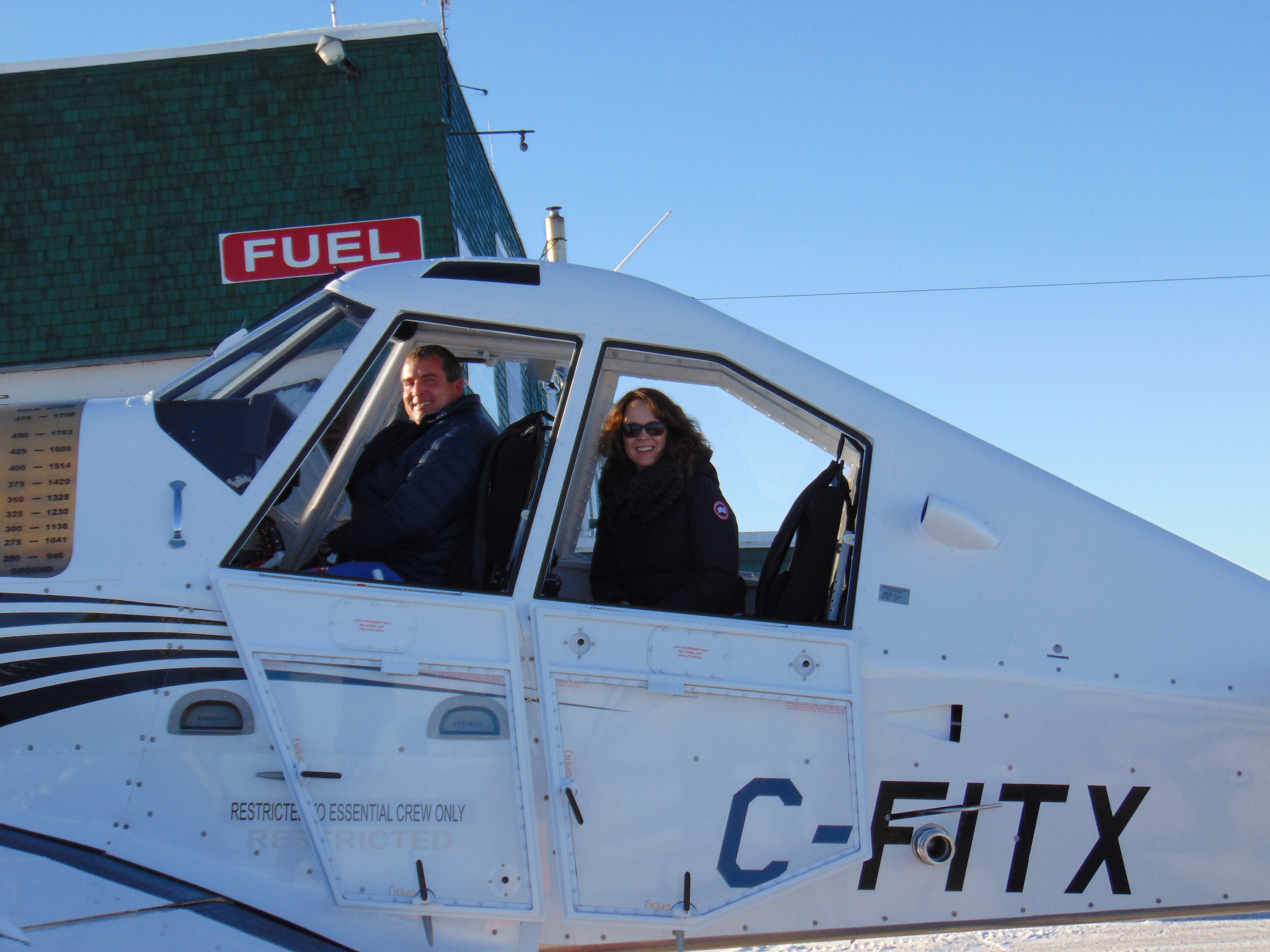 The Farr Air Trio - #1, #2, #10
---
#9 Might be the sexiest so far
She has that "why look like everyone else" attitude
---
Considering a Thrush?
There are a ton of questions you likely have - let's start the conversation though and move along at your pace. We have answers and reference materials for you to consider:
Purchase Price
Operating Costs
Model comparisons
Financing
Import costs
Maintenance costs
Recurring AD's
Customer experiences
Does the 510 actually haul 510?
Performance, landing, take off
Service work? Yes we are a factory authorized service center on not only the Thrush and the engine models but on practically everything on the plane. We have the relationships to keep you in the air.
Call us! We can help. Thrush has launched a new website with a number of videos posted, click here.
---
Thrush's 660 doing a little more than crop spraying as an Archangel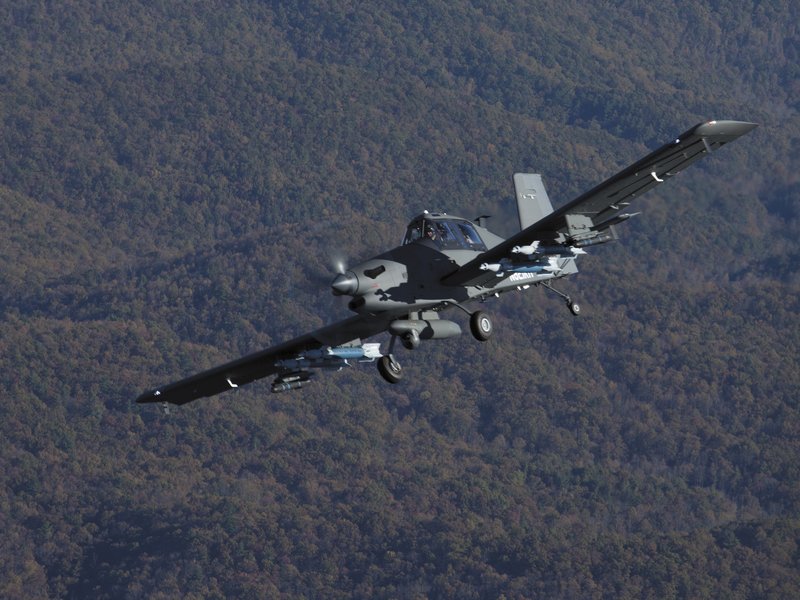 "Hanging from the Archangel's six underwing hardpoints are enough laser-guided munitions—rockets, bombs, and missiles—to level a half-dozen chicken coops, and a flare and chaff dispenser is ready in case the chickens fight back with surface-to-air missiles. Even if we held onto our heavy weapons load—waiting perhaps for a more significant target to appear—we could orbit over this territory for up to five hours. This is the essence of the light attack mission, a capability the U.S. military all but gave up two decades ago."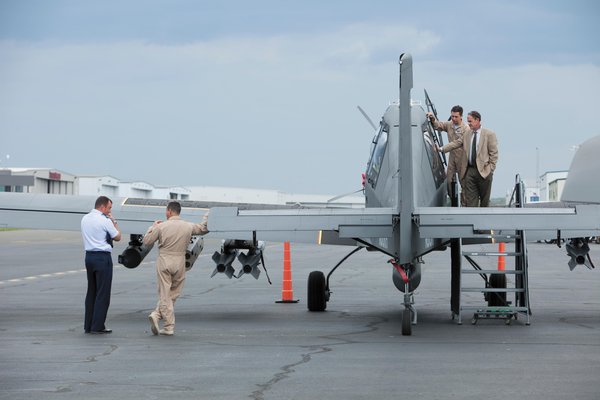 This a portion of the article about the transformation of Thrush's 660 model from ag spraying to warfare. See the whole article here.
---
September 2016 - Look for you own Sticker in the Next Ag Air Update
Furthering their campaign to build awareness and appreciation for the hard work of ag pilots and their aircraft and the tremendous role they play in feeding the world, Thrush has made a sticker (see the picture below) for the promotion. If you need more stickers please contact us and we will get them coming your way.
---
July 2016 - Thrush Launches Major Ag Aviation Awareness Campign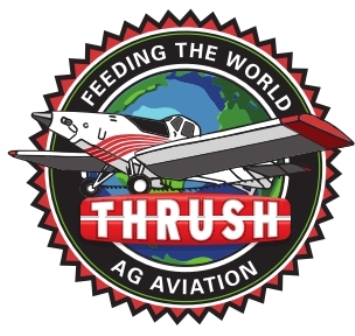 Thrush Aircraft is dedicating considerable resources and effort to a new marketing campaign designed to build awareness among an international audience regarding the benefits of agricultural aviation. The new campaign is named "Ag Aviation - Feeding the World" and has been created to share with growers, operators and pilot prospects the increasing importance of the ag aviation industry - not only in terms of improved crop performance, but also as a career opportunity for pilots. Read the full press release here
---
Who do you call at YAS about a Thrush?
Cheryl takes the lead and then the rest of the team comes on board as required. We have some interesting productivity files and operating costs to share with you. Call Cheryl and get the details. 1.800.776.4656
---
April 2016- She's home! #8 landed safely in Yorkton April 27th !
Big Congratulations to the Kammer Brothers on their new 510G ... Raymore Saskatchewan you will be very impressed!!!!
.
---
Thrush Airplanes built rugged to work hard, just like you
Here is an informative and entertaining video on a Thrush operation in Kenya - click to view.
---
GENERAL ELECTRIC appoints Yorkton Aircraft as a Service Centre
Hey Canada - Yorkton Aircraft is now an Authorized Service Center for the General Electric Line of H-Series Aircraft Engines (and yes this includes the Walter 601 engines).
This means growing support by GE to Canada.
Who would of thought, a small Yorkton company, becomes an affiliate of General Electric!
Here is the Press Release.
---
Building a Thrush Nation, One Plane at a Time
These new 2015 birds met the Canadian challenge and are ready for 2016.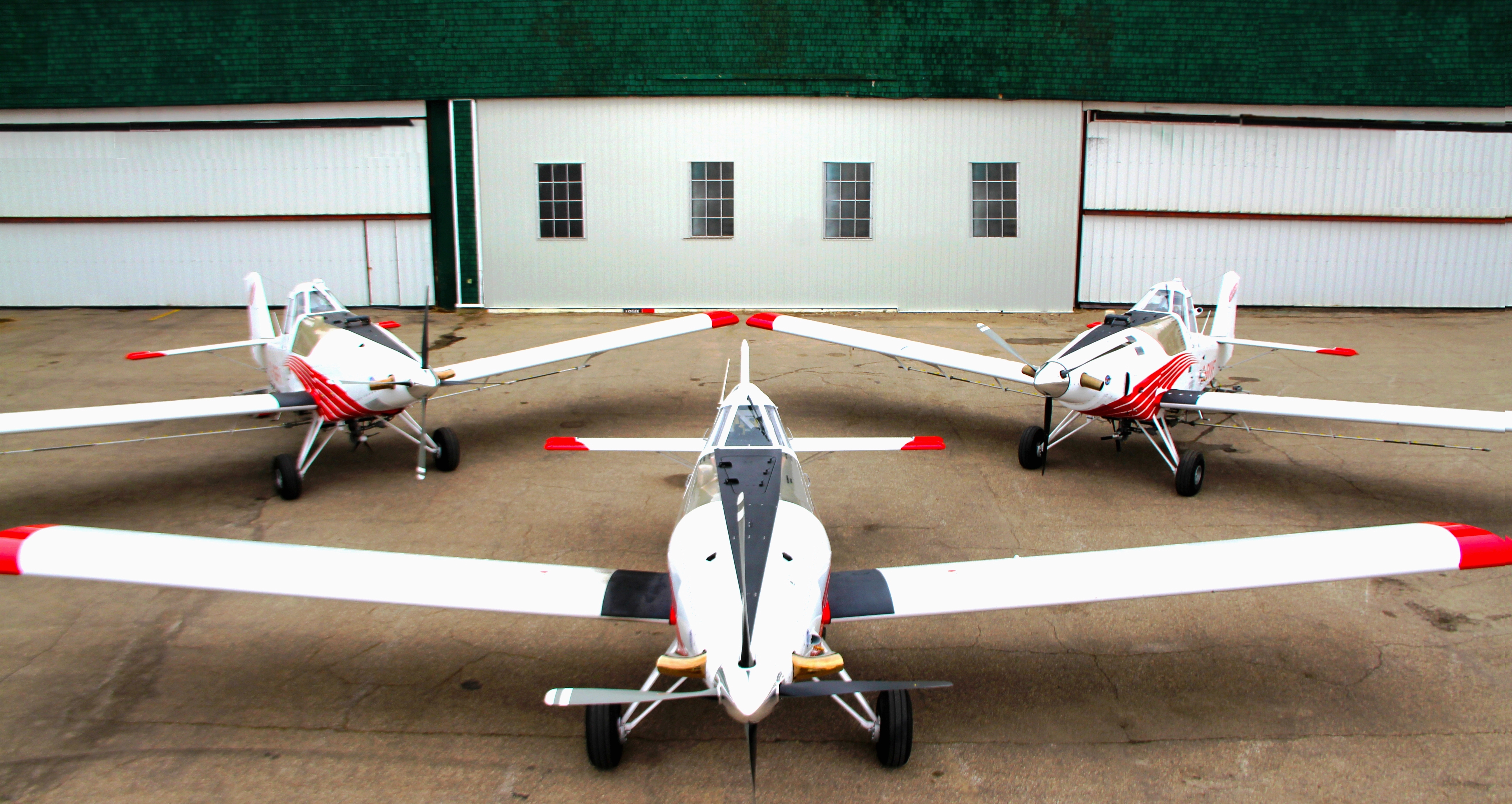 We are doing some serious flying Canada!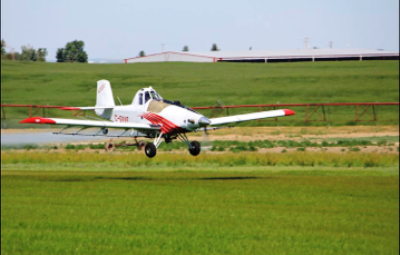 CONGRATULATIONS TO RANDY & JANET SANDSTROM - 2015
Manitoba you have a new Thrush and Canada's first Dual Cockpit H80!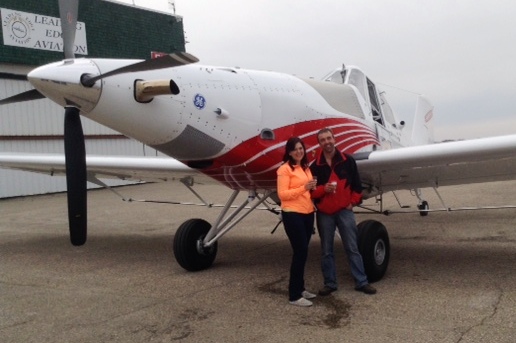 CONGRATULATIONS Alberta, YOU HAVE A NEW THRUSH - 2015
Alberta you have a NEW Thrush!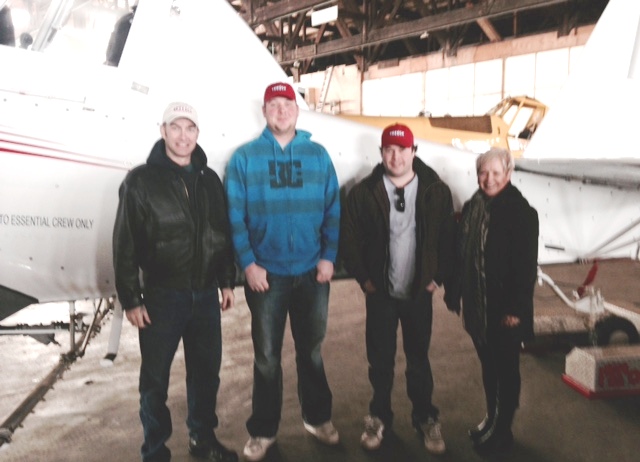 CONGRATULATIONS TO THE SUTTER FAMILY & TROY HILLABY - 2015
Proud owners of Canada's first H80 Powered Thrush Aircraft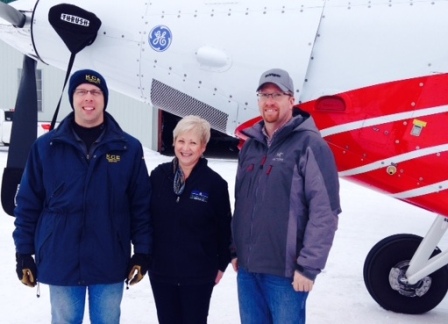 ---
What Makes a Thrush a Thrush?
Built Tough
Ruggedness and dependability are passions of Thrush and they have been for over 40 years. In this airframe you will experience a lifetime of productivity and value. Consider this, we have a stainless steel belly! All safe life limits exceed the competition.
Built with Pilot Safety in Mind
Also passionate about innovation and safety Thrush designs for superb visibility, pilot comfort and unsurpassed pilot safety. The large wing and the roll cage designed to withstand high G overturn impact. Wire cutters are standard equipment. We encourage innovation.
It's beautiful to be this rugged.
Easy. Higher. Bigger. Best.
Easy to fly, no flaps in turns. Higher effective speeds. Bigger swath widths. Best deposition. Best penetration. Much of this thanks to the large wing area. Get more done, safely.
Making the best even better is all in a day's work for us.
Advanced Avionics
Advanced but standard to us, the MVP-50T glass panel display allows you to monitor all performance parameters while maintaining excellent situational awareness.
No Airworthiness Directives
Zero on all Thrush Aircraft built after 2007. Less cost, less downtime. You make your money in the air and you get to keep more of it..
Simple to Maintain
Maintenance requirements are less and all safe life limits exceed the competition. The aircraft was simply made more simple - accessibility to all systems & frequently inspected parts on the ground is part of our design. Quality is more than a tradition for us. It's a way of life.
---
Meet Thrush Test Pilot: Terry Humphrey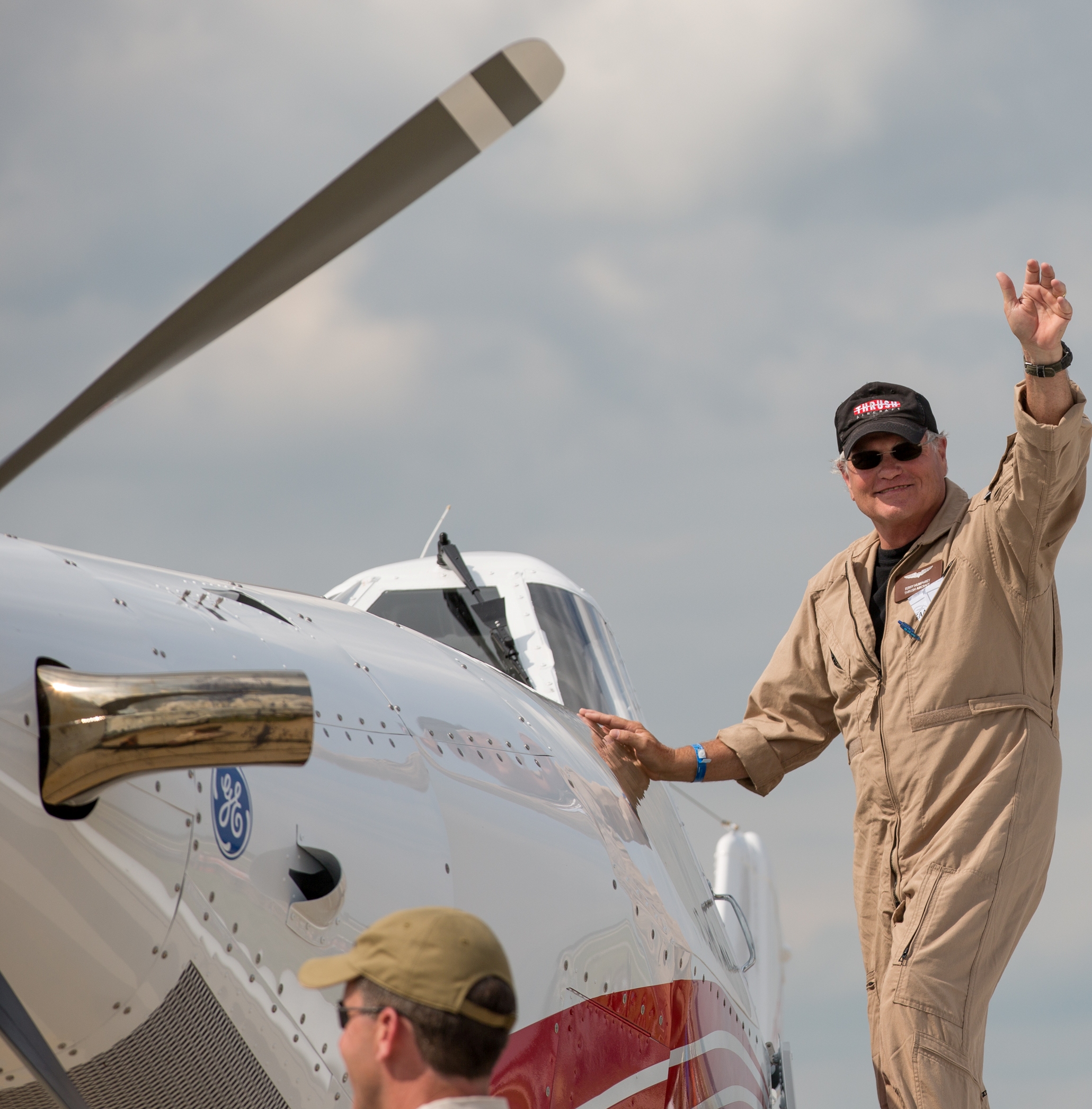 Terry is legendary in our opinion.
To confirm that you just need to talk to some of our Thrush owners that have flown and been trained by Terry!
We were so excited to hear the National Agricultural Aviation Association award Terry with their Industry Safety Award at NAAA 2015!
Terry, in his humble way, says he is just an Ag Pilot Terry, you are way more than that, our friend.
Well deserved Terry!
---
Thrush Promoting Aerial Application at Farm Shows
We admire Thrush's marketing approach. They deal simply and directly. They work at making it easy to deal with them. Another HUGE bonus in our mind, is the work they do promoting the Aerial Application industry.
Here is an example - this handout is one type delivered at farm shows by Thrush..
Also, Thrush is the only AG aircraft manufacturer to attend Osh Kosh. Their primary motive is that a large number of rural people attend this show. Getting the message to the farm gate about the aerial application industry and the advancements in the industry from the old "crop dusting" days is the key objective. We at Yorkton Aircraft appreciate their work, we are certain today's aerial applicator does as well.
---
THRUSH is the first AG Plane to promote Aerial Application at the World's largest aviation show, OSH KOSH - That's support!
---
Yes we are a CERTIFIED, FACTORY APPOINTED Thrush Dealer
Thrush Ag aircraft are designed with pilots in mind. They are built to make your life easier and your job more successful. When your work as an ag pilot is in the cockpit of a Thrush, it's going to be a good day at the office.
That's why, at Yorkton Aircraft Service, we are proud to be a Certified Thrush Dealer. We believe it was time the Canadian Ag industry had a Canadian dealer represent Canada operators!
Thrush appointed us because of our proven model of dependable service to the Ag Industry and our reputation. Commitment proven over 25 years of business runs deep. Also, we won the appointment because we do not run an Aerial Application operation. Thrush believes their representatives should be independent, not competitors - and we agree. Our customers, not our own operation, come first.
Founder of Yorkton Aircraft, Allan Denesowych, was an AME and a Commercial Ag Pilot. He gave up flying Ag because he didn't like the model of competing with the very customer he needed to make his shop successful. It was the right thing to do and he has taken this philosophy with him as Yorkton Aircraft has grown.
We will give this aircraft the same attention and support we give all of our product lines. And we will give you all of our attention too. We are committed to keeping you and the aircraft in the air, because that's where you make your money.
You can expect year-round expertise and knowledge sharing from us, full warranty support,
AOG Parts here in Canada
A strong representation of Canada, for Canada.
Our network and contacts built up over 26 years is yours too, just by doing business with us.
We are ready to have the conversation with you about your needs, contact us we are interested in helping you.
Visit the Thrush site here.