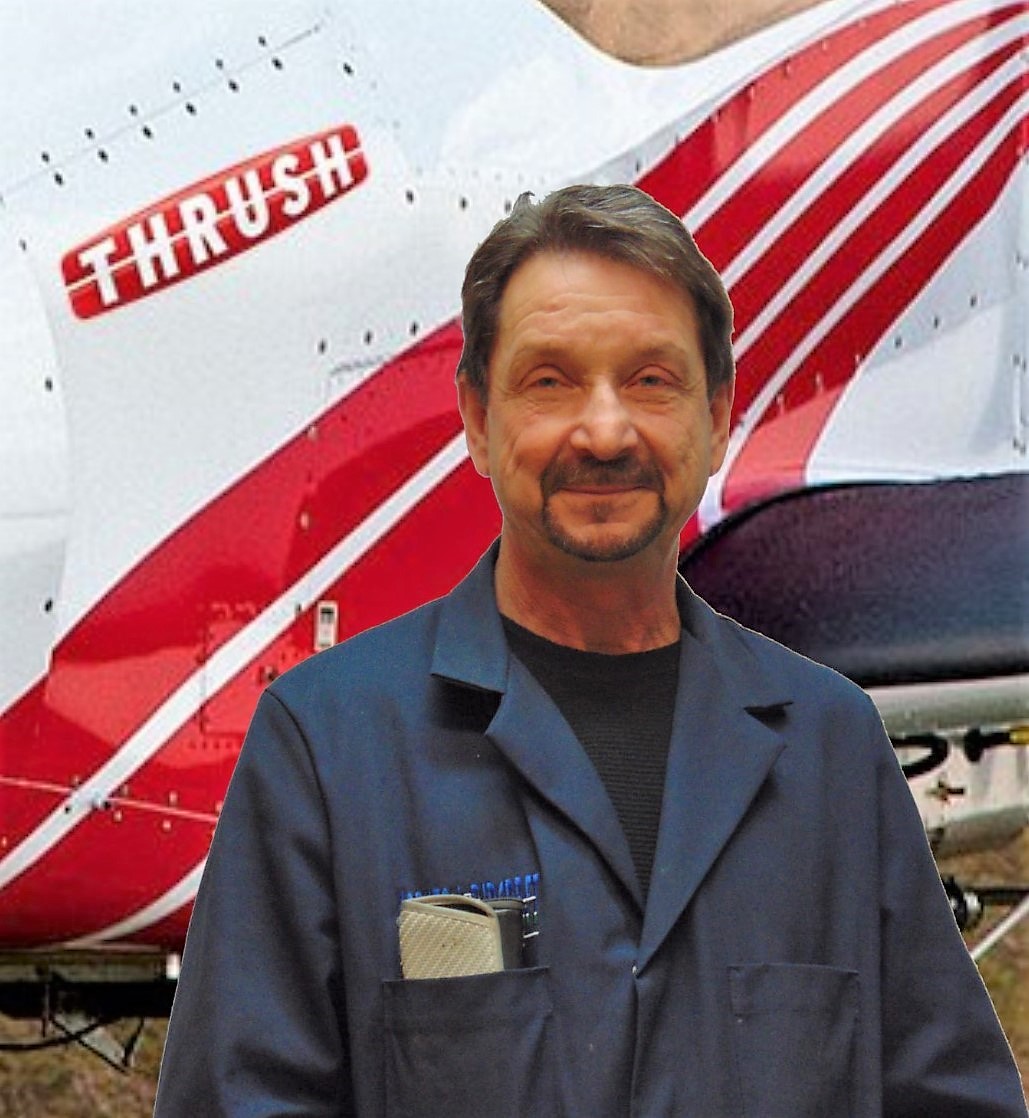 Allan Denesowych
Director of Maintenance
I am Allan Denesowych, Co-Owner and Director of Maintenance at Yorkton Aircraft Service.
My story: I was hired in 1979 by Yorkton Flying Service to paint the green WW2 hangar I own today. My boss at the time was Doug Ingham. Despite my torn jean jacket and long hair, Doug kept me on to be a field flag man (yup you heard that right) and their main ground loader for their flying service. Post spray seaon, my "McGyver" mechanical abilities impressed him enough to offer me a job in their shop. As I spent my time there I got my Private License, my AME license and then my Commercial Pilot License and became an Ag Pilot. My job changed to being a fix as necesarry mechanic and fly as necesary Ag pilot. I was a busy guy! Hey this was 1989! Along comes Cheryl with her bright ideas. We both felt the CAD AG air industry would grow and that my combined ag maintenance and ag flight experience could enable us to be a leader in moving the industry forward. I put my helmet on the shelf and have spent the last 35 years keeping customers in the air. I am proud of what we created. We have in fact helped grow the Canadian AG Industry. Everyday we are there "to keep you in the air".
My maintenance rule that I pass on: now that you have fixed it, would you get in and fly it? Would you put your wife and son in the plane?
The team here at YAS understands we are more than a maintenance shop. We don't have our own flying operation - we are truly here to be our customer's pit crew. A number of us here have a pilot's license - the trust factor is well respected.
In a nutshell, we care. We fully understand our responsibility.
I invite you to check out our full story here: our story,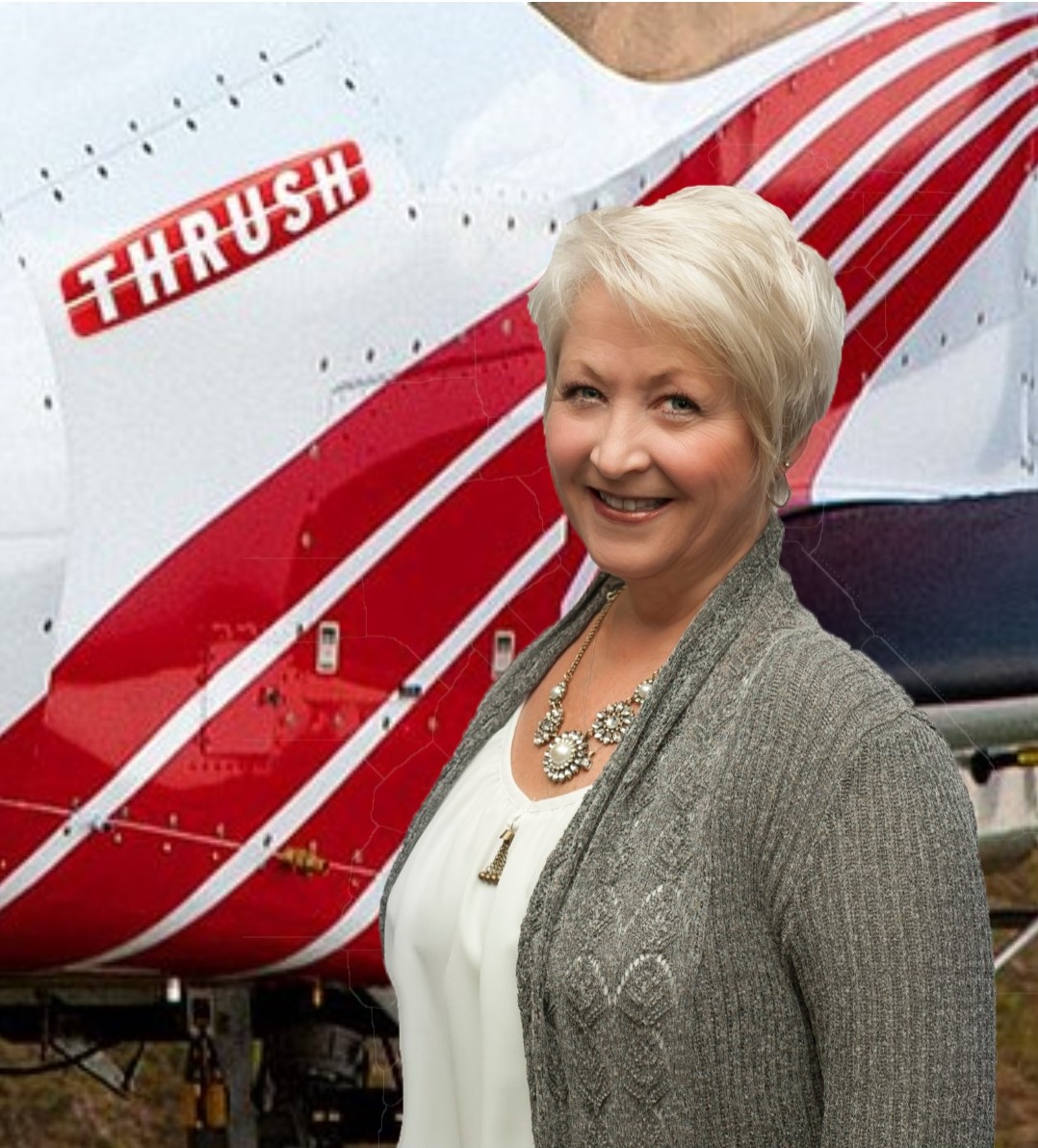 Cheryl Denesowych
Director of Operations & Business Development
So here I am, the co-owner of this company and the one that made Al quit crop spraying. No I wasn't afraid of crop spraying being a dangerous occupation (I have many views on this I'm happy to share). Back in 1989 ag flying wasn't a full time job and we just had our first baby boy. I knew Al had an engineering mind, a hard working attitude and a mindset ready for challenges. I was a bored government employee with a Business degree and a drive to be an entrepreneur. So yes, it was my idea but I did allow Al to be the 51% shareholder (because he was the most experienced in this field, but mostly because I absolutely admire his focus on reality and unbelievable common sense). I'm not a pilot but I did ground school twice (yikes!) and I caved on my pilot training about 15 hours in. I have a very, very strong respect for Pilots!
Both Allan and I are passionate about safety in this industry, helping others and taking opportunities forward. We are thrilled and very grateful everyday to support our clients and help our team members grow their skills and become professionals. Customers are served by YAS, not Al & Cheryl.
The absolute best part of this industry is the friendships we have developed Aviation is a small industry, AG and GA is even smaller We'd love to meet you too! Email me or call me and let's have a conversation!
Thanks for visiting. We look forward to meeting you.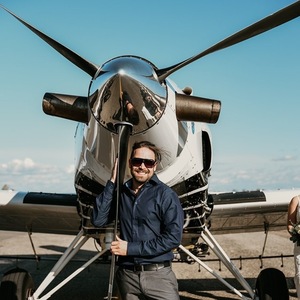 Tanner Denesowych
Director of Sales & Service
Tanner grew up in the ag aerial application industry, literally. He is 3-months older than Yorkton Aircraft Service Ltd! Tanner started Ground mixing at 15 yrs old and continued through high school, but left the industry after losing a bud in an Ag plane crash. He started flying pipeline patrol and that brought him back to ag flying. He has flown 8 seasons as an ag pilot, in almost every aircraft type. His most recent 3 years were in a Thrush Turbo prop. He has done 3 forestry tours; and in total has 3500 hours PIC time. Tanner always considered getting involved in the family business and decided to do that in May 2020. Working on becoming YAS Director of Sales he is focused on Thrush sales, GPS sales and parts and as Service Manager he advocates for the customer's time in the shop. He brings a fresh and creative spin to the business while believing strongly in the YAS brand and its promise to the industry. A director on both the Saskatchewan and Canadian Aerial Application boards, he enjoys seeing the industry as a whole, not just from the pilot seat! Tanner looks forward to helping you Keep in the Air.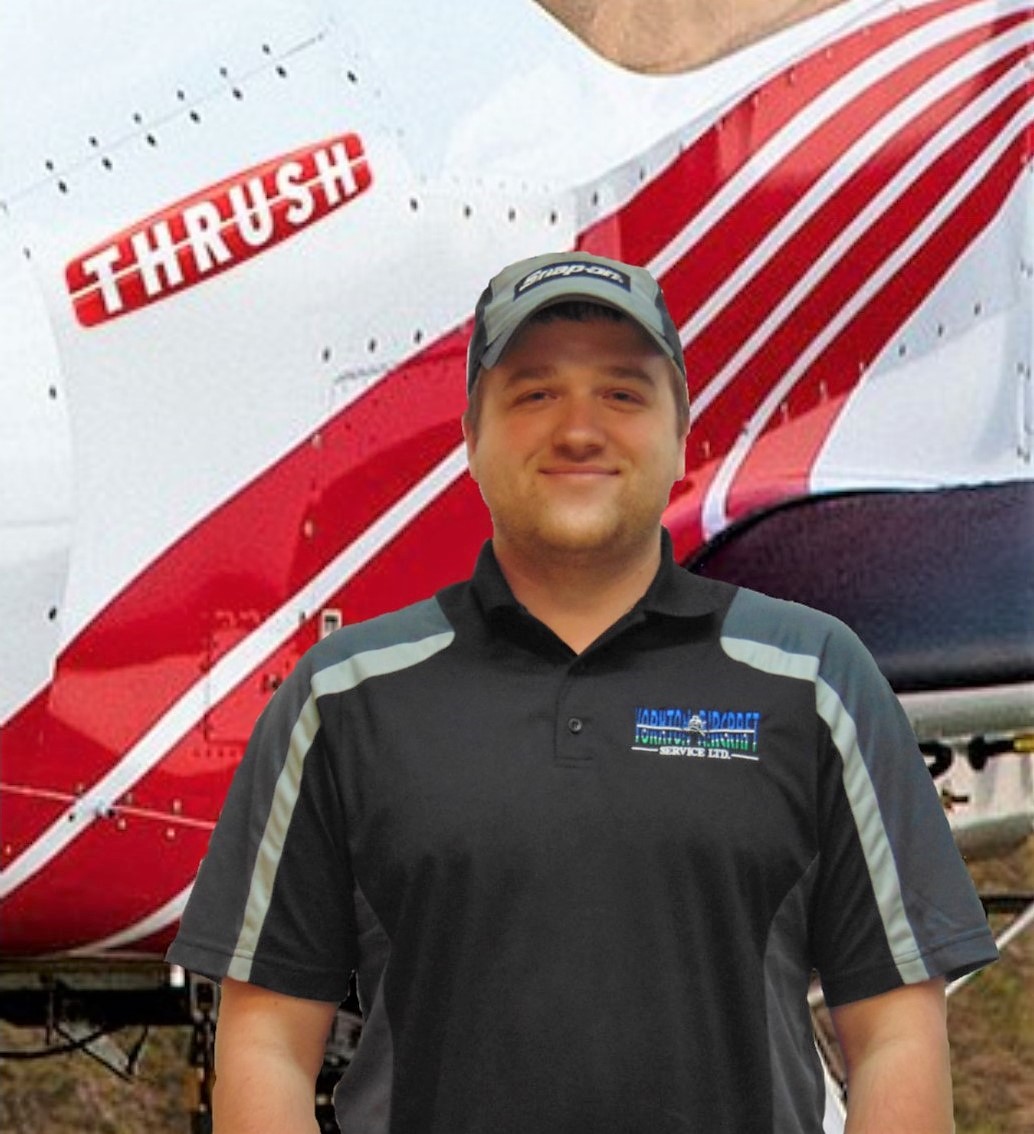 Kyle Fink
Aircraft Maintenance Engineer
Kyle is one of those strong and quiet types! He has his pilots license as well. He's been with us for 13 years! Super reliable and constant. He's a gentle soul and wants to keep you safe and in the air. Keeper Kyle! Sometimes a bit apprehensive, he brings great conscience to our team. In his spare time you can find him on the curling ice (as well as sitting as a Director on the Curling board), and cheering on the Montreal Canadiens and Saskatchewan Roughriders.
Juan Roca
Aircraft Maintenance Engineer
Juan is an 8-year vetaran of YAS. He is the company "do better" guy. He is always challenging our procedures, our efficiencies. He is focused; only smiles when his sarcasm is lit up. Juan has a strong work ethic and approaches his work as of this was his business. This makes him dedicated but also a bit of a hard a** at the same time. Can't deny the engagement!! We try to temper him by teasing him (lots). We won't explain further - evey company has that JUAN (one).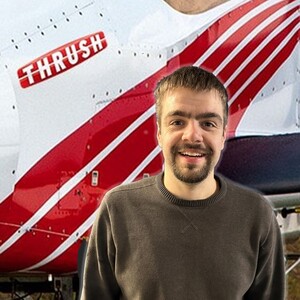 Jon Powell
Aircraft Maintenance Engineer
Jon and his family moved to Yorkton in August 2022 and wasted no time in finding an acreage close to the airport. Jon brings us insight from his experience at other AMO's. Initially Jon may seem "aloof" but he is nothing like that all! Very skilled, filters the distractions well, easily sees the big picture and he gets the job done, consistently. Cessna or turbo plane, Jon says "sure, I'll get that done". We have a strong team contributing member here!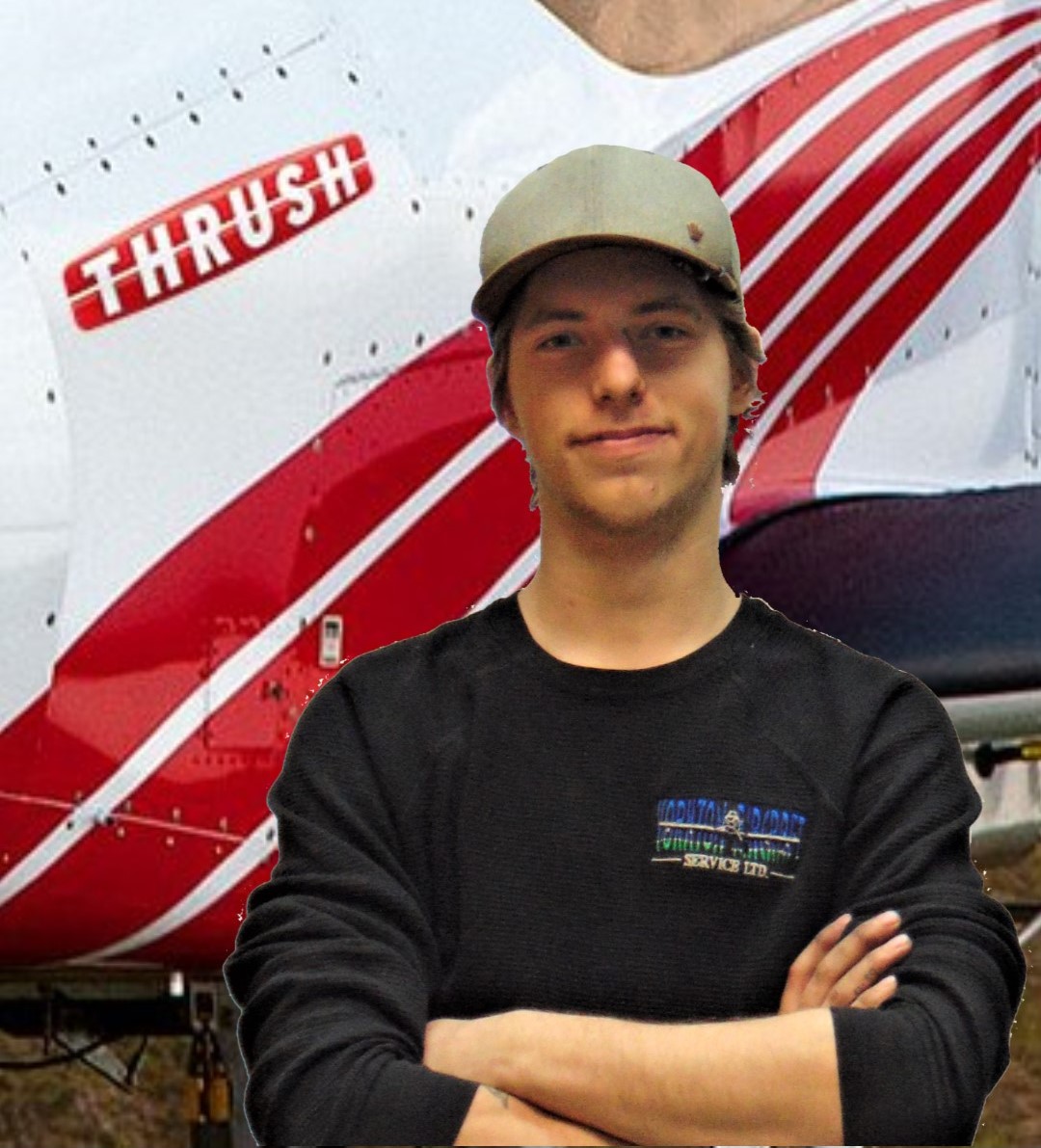 Preston Fieber
Aircraft Maintenance Engineer - In Training
Hey all - PRESTON is an apprentice for only a while longer. At the end of February 2023 he finished his 4th year apprenticeship training at Southport's Stevensons/Red River College program. Check this out.... our boy Preston won the award for the highest marks for the four year running average and he received the TEAM MEMBER award. Cheryl always expects YAS employees to top their class but this Team member award has us EXTRA proud! If the team member award doesn't explain who Preston is, I'm not sure how else to explain it! Preston is working extremely hard to advance his skiils; he respects his responsibilties as a new AME. He's one our team's Pilots. The Pilot / Mechanic skillset is unique. Preston, congrats on a great acadamic career, we are so Proud of You!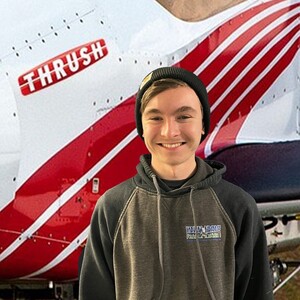 Jarek started out as a summer student, and moved to a full time position upon graduating highschool. He's lived the rookie life - helping out wherever you can - hangar repairs, sweeping floors, garbage duties. Jarek is a great example of what happens when employers and employees communicate. Jarek is motivated by all things electrical. Sure, he can change tires and be an awesome crew member but when we can put him on all jobs that pique his interest, everyone wins. Look for some awesome output from this fine young man!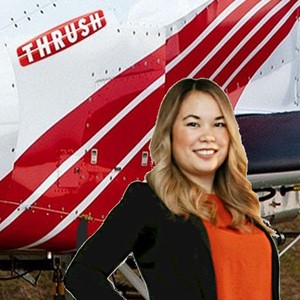 Kaci Denesowych
Director of Human Resources & Marketing
Kaci is Miss Easy and Friendly. Kaci is married to Allan and Cheryl's youngest son, Cole and she has earned her way into her trusted posiiton at YAS. With university classes of psychology and sociology behind her, restaurant managment skills and her own family background of high achievers, Kaci is a great asset for a small company. She she has obtained her Myers- Briggs personality testing certication and is actively taking classes in HR management, keen to further develop her HR skills. Kaci also manages our marketing and social media campaigns, helping us to spread our "we're there to keep you in the air" messages. If you recognize Andy Awareness, our social media character designed to keep the Ag flying industry safe with his "be like Andy" message, Andy is Kaci's character. We are so proud of her and Andy.
Full of ideas and a gentle spirit, Kaci brings a special sunshine to YAS.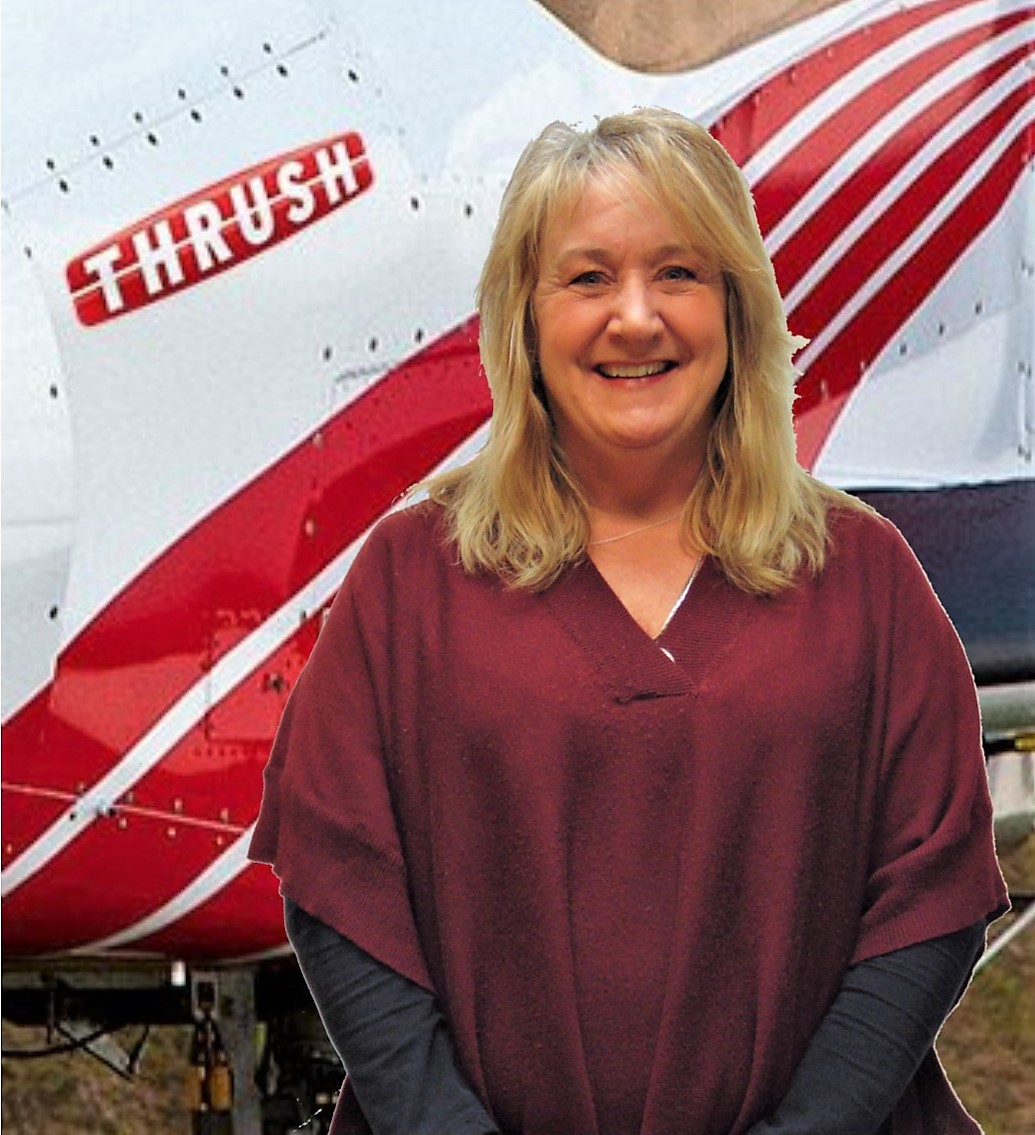 Caroline Trost
Purchasing, Receiving and Stores Person
PO numbers, want lists, min/max inventrory control, competitive and fair pricing, tracking numbers, stock/special order receving, invoice management; location management, order just in time, know shipping costs, anticipate freight management problems. Understand HS classifed coding between countries to avoid needless delays ... How much would this work excite you? It takes a conscientious, focused and detail oriented person who consistently performs, that's our Sweet Caroline.
Add in a mix of AME's who need parts now; a DOM who may have a read-my-mind MOOD, special order requests but "btw get it here ASAP but don't spend a ton on freight" (classic and most typical freight management issues): Traceability, batch numbers, locations, it goes on and on in Caroline's shipping and receiving area.
In April 2023, we celebrated Caroline's 20th-ish Year work anniversary! We don't remember when she started with us exactly but what a staple she has been for YAS, thank you Caroline.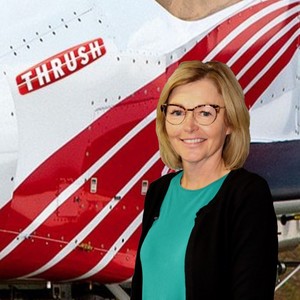 Cathy Inglis
Office Administrator
Cathy's extensive business and administration experience has been extremely valuable to Cheryl. Cheryl jokes that when she needs some reality she sits down with Cathy, then Cheryl makes her way to Kaci's office to get a hug. Being direct but personable is a quality Cathy has mastered. She often comments about her style and work ethic coming from growing up on a farm with six other siblings. Cathy is a large support and supporter of Al as well. Since she is a strong listener and is fully immersed in everything that goes on at this place, she tells us Al is right 99% of the time. She tolerate's Al's handwriting as well. Soon, Cathy will be leading us through some major technology changes here at YAS. Under her guidance we will get this job done and we will like it too. An avid golfer and curler too, Cathy understands teamwork. This is why we rely on her to boost all of our administration work here.
---
From Allan and Cheryl,
This is a winning crew! There is so much more we could tell you about our team. We tried to give you the highlights.
We are blessed to have such committed individuals work with us!
We have accomplished quite a bit as a team throughout the years. Check it out!