WE'RE THERE TO KEEP YOU IN THE AIR
For us, it's not just about outstanding aircraft maintenance and leading product support bundled together with high levels of customer service. We are also passionate about supporting our clients and their industry so they can advance, improve and grow their operation.
Our logo shows Yorkton Aircraft behind an aircraft.

This logo was developed in 1990 and we have considered updating it to something more modern but the statement it makes holds true 25 years + later.
This is how we see ourselves. We are behind our customer's all the time. We focus on the client and his success. In team meetings we refer to ourselves as the pit crew for our flying customers.
We received this text from a customer:

Thanks again for getting me that oil and parts. I wish my AgCo dealer had as good service and parts inventory as Yorkton Aircraft! Carson S., September 10, 2015

See more testimonials below
OUR GOALS
We need to be the best we can possibly be so our clients can be the best at what they do.
We work to a set of standards we call our Zero Program:
Zero Downtime Zero Call Backs Zero Disappointment
These are high standards. We take our work and our client's trust very seriously. When we don't get it right, we address it. Our standards and our values support our client's advancement and growth. When they grow, so do we.
OUR VALUES
Safety is of course a core value, but every AMO is driven by safety standards.
We believe these core values below set us apart.
Be a Leader
We stay on top of industry developments to continually improve our company and help our clients maximize their equipment and advance their operation. We don't compete against our clients - we are here for their interest. We are good listeners too. We are the "go to" company.
Work as a Team
We work side-by-side and collectively take responsibility for our work. We openly commmunicate. We are upbeat. We think in terms of client, industry, then company success. We are honored to be on our client's team and continually work to maintain their trust and respect and be key contributors to their success.
Deliver More
We choose the best in quality products and services and use our technical expertise to keep our customer, the aircraft, and their passengers safe. We want to help and we seek unique ways to do this. We impose high performance standards on ourselves.
WHAT YOU CAN EXPECT
These are our core behaviors at Yorkton Aircraft.
Caring Friendly Generous
Helpful Respectful Passionate
Positive Grateful Fun
WHAT CUSTOMERS HAVE SAID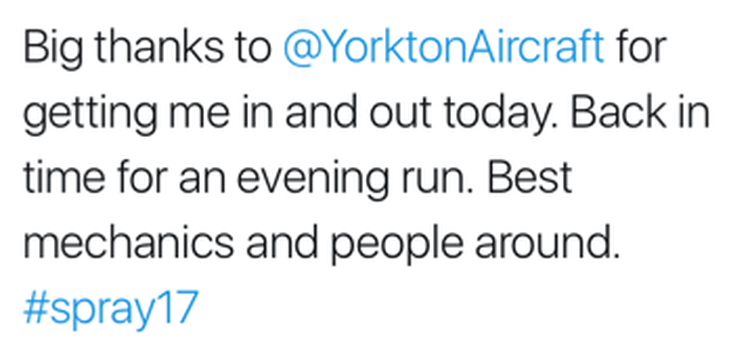 ---
Al, Cheryl,
Just a quick note of thanks to you and your staff.
One of the deciding factors in purchasing my aerial apllication aircraft was the close proximity of parts and service that Yorkton Aircraft Service provides. I did not, however, expect to have to use your mobile service so early in the season! Be that as it may, Al's telephone diagnosis was spot on, and the speed at which help arrived in Dauphin this past Thursday was truly remarkable. I can simply not put into words how pleased I was with Kyle and Wyatt. They worked tirelessly throughout the day and into the night to get me back in the air the following day. The professionalism and work ethic they displayed from the outset to the very end was truly impressive. Yorkton Aircraft Service should be very proud of these individuals.
Thanks again for "being there" and getting me back in the air.
Sincerely,Mike Potoroka
---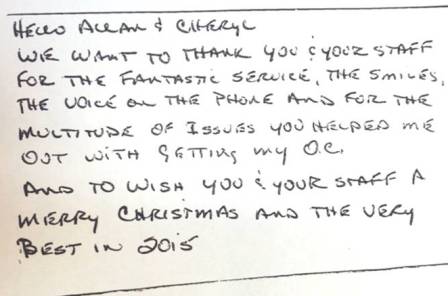 ---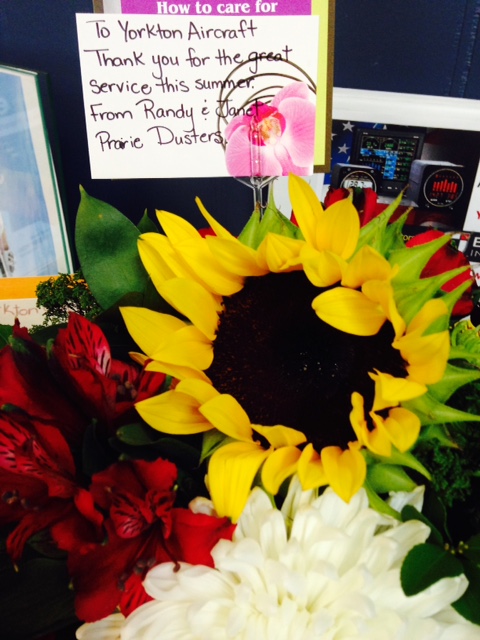 ---